Technology is changing the society; it is embedded in everything we do, improving the ways we work, live, and experience this world. But we are looking at a greater transformation at play, where the unprecedented influence and access businesses enjoy today come with a challenging set of responsibilities. It is essentially looking beyond the digital into a place where technology is built into every single interaction.
Today, changes in how people communicate, discover, and connect, carry implausible implications for businesses and every aspect where people are connected. Therefore, IT trends are focusing beyond individuals, they are looking at the society as a whole, allowing businesses to re-imagine all the possibilities in every industry. Emerging technologies have introduced us to disruption, which we did predict. But the new transformation is unique. For the first time, we are standing in a two-way street. Consumers aren't just using products but, providing information and accessing these products back. The obligation here is delivering integrated and newer innovations for organizations to engage with people differently. We have to set the stage for new leadership era, a new generation of business models, focusing on the mantra of 'think products, not projects'.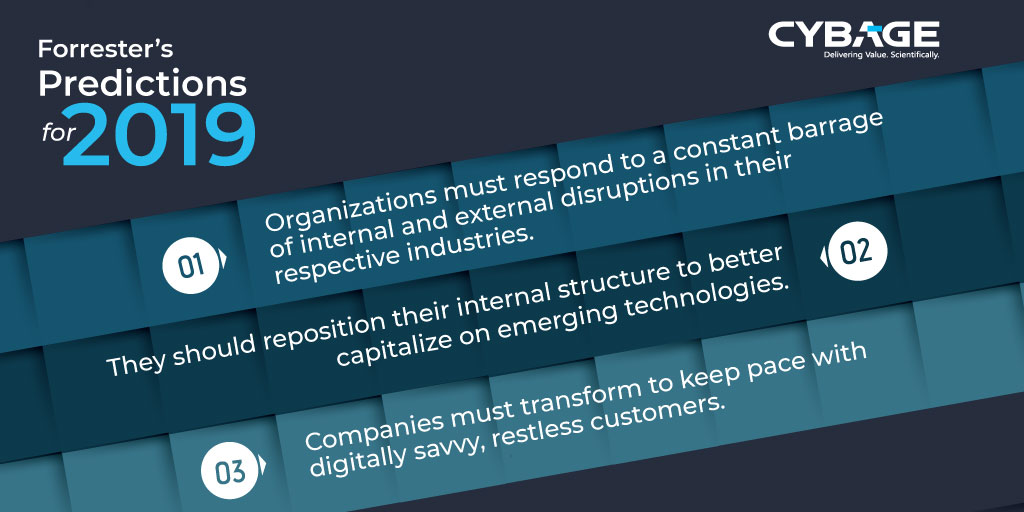 Source: Forrester Research
Digital Transformation and Customer Experience
While a priority for many organizations, digital transformation is driven by the evolution of customer behavior and partly by technology. For successfully driving digital efforts, it has become important to understand and map the customer experience. We are beyond the point to play catch-up and actually apply digital at the core of the business.
When the implementation of digital transformation is so nebulous, how do you best define the strategy for something so enormous? It can be achieved in two ways:
Align your digital transformation strategy

to customer priorities. Begin with outside-in perspective. To start defining the digital journey, you need to focus on your customer and product. That's where customer experience through personalization gains perspective. Personalization is yet an uncharted territory. While many are experimenting, some have gained ground over it. Realistically speaking, personalization can significantly improve customer experience through data and automation. When implemented, can lead to increased leads helping the enterprises achieve higher revenue, therefore, establishing a win-win situation. For instance, online retail can customize suggestions based on data, which can be replicated in offline stores. A personalized suggestion on products and services as per the last purchase data, will lead to an enriched customer experience through automation.


Get closer to your customer, focus on becoming customer-centric. Through this conscious decision, you will gain an important perspective and insights on what are their experiences in doing business with you. Whether the goal is to digitize your organization or to digitize your product, either start from the native ongoing digital journey or from the beginning, any will work. We are looking at the world that rapidly, exponentially, and above all, perpetually is changing. The new paradigm—customer-centric—focuses on embracing constant technological change (for instance, mobility) and capitalizing on it.
Digital Transformation and Product Engineering
Over the years, enterprises and businesses are working on realizing the benefits of digital transformation, and their teams are working on taking this vision forward. However, these teams are setting the goals and working in silos, which makes integration a challenge. They need to evolve from the 'project culture' mindset and think like a 'product'. The integrated engineering approach is needed wherein teams are working with product engineering ethos that helps in bringing transparency and predictability in what teams are doing.
Enterprises need to drive digital transformation efforts with the four pillars of product engineering that is people, process, tools, and technologies.
If pondered upon, the key here is the tool that works with the integration of methodology, process, and technology. The mid-level team in an organization creates the mindset of automation @core—considering methods, practices, and tools—with the ultimate goal being integration.
DevOps or CI-CD are becoming clichéd; they are no longer considered as value additions. They have become a mandatory part of any product or software development. Today, the new normal is general SMAC, that's the platform of running a business ecosystem efficiently.
New-age service definition strongly advocates for attitude, skill, knowledge, and ownership. When the rate of change is high, and the industry is unpredictable, ownership and A-S-K are essential for the growth of both an individual and an organization.
Embedding Opportunities
Embedded with opportunities, digital transformation is no longer an option for enterprises. Today, customers are expecting solutions, not just skills; a partner, not just a remote team. The digital elite out there are winning, and they are winning big. We have forayed into an era where we need to shift our mindsets and business models to value addition at the core of a business, which enables optimized decisions and actions. It is rightly said that it takes a village to bring about a change, but it also takes perseverance and spark from one person to spot the latest trends (in digital transformation) and create a sense of urgency around these new trends.
Liked This Blog Post? Got Feedback For Author?