In a world where Everything is Digital, and Digital is Everything, supply chain too comes aboard piquing curiosity – how to get the extensive amounts of real-time data, put this data to use, get a "bird's eye" or "control tower" view, and then act on it?
Customers want speedy delivery, they want to know precisely where their package is, what is taking so long, and how long it will be until it arrives. These critical customer demands are driving the need to focus on creating strong end-to-end visibility to foster customer engagement.
In response to this need of complete visibility, the Supply Chain principles of fixing age-old issues are being embodied in a Supply Chain Control Tower.
What is Supply Chain Control Tower?
Visibility necessitates a cross-divisional platform that helps in proactively managing end-to-end supply chains in real time. A high-degree of visibility is only possible when the core elements—people, technology, and process—work in tandem.
This exactly is the role of Supply Chain Control Tower, to provide a holistic view—the one that integrates and extends the systems (ERP, WMS, TMS) with partners (suppliers, manufacturers, 3PLs)—to facilitate efficiencies and transmit information. This information can then be harnessed for predictive insights and proactive risk management.
When Do You Need a Control Tower?
Establishing control towers is an expensive business but the returns are equally substantial. Integration efforts and licensing models such as software-as-a-service help in reducing the capital expenditure. There are also companies that let you leverage 3PLs for necessary functions "as a service".
If you are facing the following hurdles, then it's certain that your company needs a control tower:
Your supply chain is under-performing, and you are not aware of the opportunities that can be improved.
There is no horizontal integration.
Your organization works in silos, so there's no visibility on inventory.
You do not know where you will achieve maximum results in shortest time; however, there's a high-level road-map that you want to sketch.
Analytical capabilities neither give actionable insights nor help with forecasting
What Does a Supply Chain Control Tower Do for You?
A Supply Chain Control Tower can analyse the data collected from multiple sources, identify the root cause, give predictions, warning alerts, agility, and enhance performance management.
Here are a few of its core competencies:
Visibility across supply chain partners
Real-time tracking through collaborative information sharing
View warning alerts and manage the exceptions before they disrupt your business
Decision support through predictive and prescriptive analytics, such as what happened, what is happening, and what can happen next
Collaborative response mechanism through workflow process management within and outside the organization to respond effectively to an event
Leading software vendors have already started building robust solutions for Supply Chain Control Towers helping the organizations automate the most laborious tasks, so that you can utilize your time more efficiently, that is, focus on analysis and strategic decision making. This brings us to the benefits that a Supply Chain Control Tower can confer.
The '360-degree' visibility across the supply chain is the primary benefit of a control tower. Its 'information hub' and collaborative mechanism helps not only with analytics but also with breaking silos and working across disparate functions. This creates the following business impact:
End-to-end visibility and control
Reduction in expediting costs
Reduction in shortage/stock outs
Increase in on-time delivery
Increased responsiveness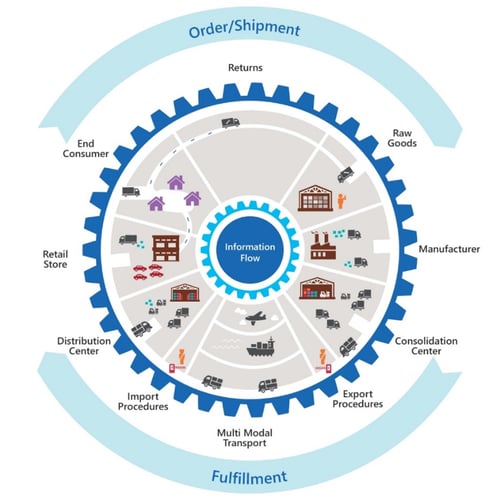 With latest technologies in the industry such as Artificial intelligence (AI), Internet of things (IoT), and Robotic Process Automation (RPA) more automation is now possible for managing end-to-end supply chain operations.
Realizing the benefits of control tower involves synergetic efforts in the right direction. It can help you do it all – monitor, analyse, and predict. It's no surprise that control tower is bound to deliver exceptional customer experience. It is intriguing to wonder what the next wave of digitization will bring.