Right on the heels of the peak seasons, businesses are doing everything they can to equip their supply chains with improved efficiency. Every year through the highs and lows of the shopping cycle and providers have ensured products get to their customers' doorsteps on time. On the backend of joyous gift-giving times, however, lies the challenge of 'returns.' A challenge exacerbated during the Holiday season but not limited to it!
________________________________________________________________________________
Globally, returns have increased by almost $500 billion since 2012. The holiday season
accounts for increased purchasing and, therefore, more returns.
____________________________________________________________________________________________
Contending with the Great Reversal
An uptick in the volume of returns, given the cost of returns, adds numerous complexities. The most obvious cost is from the lost sale, potentially including original shipping expenses. But the cost of returning a product goes beyond shipping refunds. Re-working, re-packing, and re-labeling returns are the primary challenges companies often face. Decision-makers must also streamline transportation, processing, labor, quality assurance, and other connections across the reverse supply chain. The other challenges include:
Time and costs of damaged returns
Costs such as transportation, processing, inspecting, redelivery, and customer support, can amount to over 50% of the sale price. And that is a conservative estimate! A well-rounded return policy and an effective inventory management system can help reduce costs and increase profits.
Complex return flows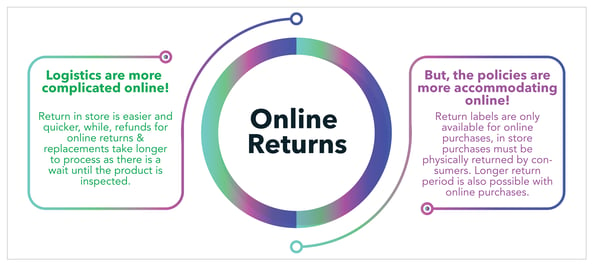 Effective reverse logistics are complex, with steps from processing and inspecting to repackaging before shipping it back. Technology and holistic planning ensure a smoother flow to keep the consumers happy.
Incomplete

infrastructures
The lack of written return logistics procedures causes delays and errors. But, a dedicated infrastructure for returns can help streamline operations.
Perfecting Returns with Complete Visibility
The experience during returns processing also impacts customer relationships, brand reputation, and bottom lines. Understanding their expectations is vital to designing convenient, post-purchase journeys to maintain customer loyalty. Complete visibility of the process enables stakeholders to identify inefficiencies, eliminate complexities, and drive cost savings. As a result, optimizing the duration without compromising profitability has become a concrete priority for decision-makers.

Exploring Reverse Logistics Triggers with Cybage Return of goods by customers can happen from multiple channels such as online customers or in-store customers. Sometimes, unsold goods by distribution partners can also be returned due to contract terms or for repairs & maintenance as per guarantee agreements. Cybage empowers organizations to leverage the power of technology for more streamlined returns management for Product Companies, 3PLs, Automotive, Retail & eCommerce businesses.
Smartphone apps

streamline refunds & pick-ups, and for workflow management

Transport Management System ensures complete transit visibility

Cloud Computing drives real-time updates & increased visibility at any location

Automatic Return Labels

inform quicker decisions

Predictive Analytics and Big Data

improve forecasting & ensure thorough product listing

Smart Warehouse Management enhances stocking & quality inspection, reducing environmental impact