As the barriers to digital entry continue to shrink, new-age technologies continue to provide a variety of capabilities that enable digital transformation. Every company in the world has jumped onto this bandwagon to transform the core of their business. They are in a race to improve quality and reliability of their digital information and technologies. The ultimate goal they aim for is customer retention to retain their spot. But what it really takes to bag the top spot in this race is delivering remarkable customer experiences.
Like any other intelligent technology, customers have evolved when it comes to their expectations. Mundane experiences that are curated keeping the "bulk" tendency in mind act quite as a customer repellent. Modern-day organizations and brands at large have come to realize that what it takes to woo a customer is not just the product or service. It is more about creating advanced digital engagements that are unique to every customer.
Sophisticated brands, such as Amazon, Netflix, and Starbucks, have trained customers to look out for personalization. Sure, it sounds daunting, but these leading organizations are tapping into an oasis of data that is easily available to them. In other words, they have found the holy grail of digital marketing maturity (DMM) through the accession of different levels.


Levels of Digital Marketing Maturity:
Companies tend to fall into one of four maturity levels: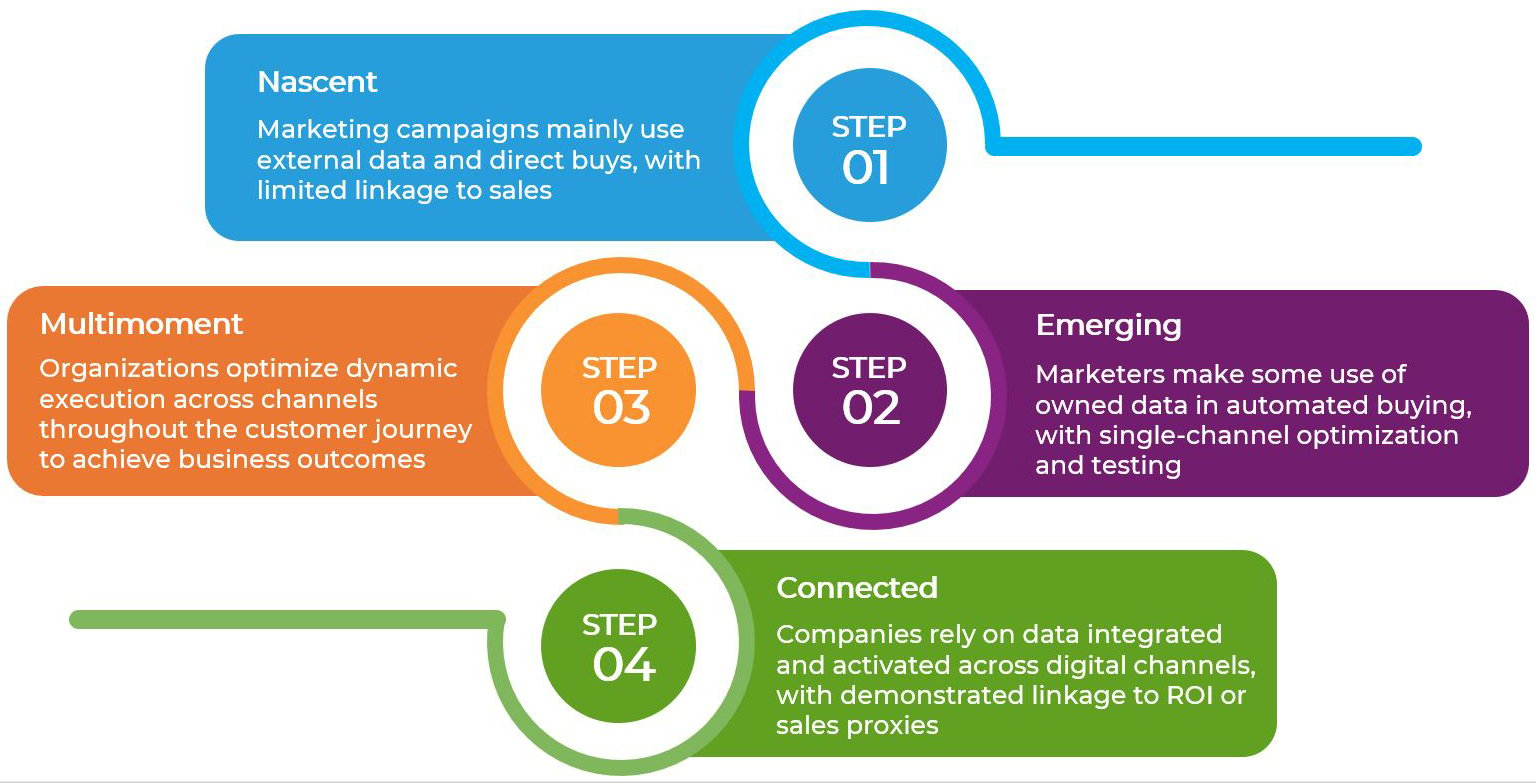 Per BCG, companies that adopt a path to full data driven marketing
& attribution saw significant benefits – up to 30% in cost efficiency
savings and 20% increase in revenue.
Mastering Marketing:
The best marketers now use data for end-to-end measurement and messaging to reach the right consumers. They continue to build in-depth understanding of the entire customer journey. They simply know how and where to focus their engagement efforts. In simpler words, they don't expect the customer to come to them, but they meet the customer wherever they are. They have taken the data-driven and digital ways of working the norm, and they staff and organize their functions to underpin a full digital transformation.
Agile is easier to talk about than to implement considering the daunting organizational challenges. Cross-functional collaboration does not come readily to most organizations. Digital marketing involves new ways of working, and these methods affect every staff member personally, from job description to office location to compensation. People and organizations tend to resist this kind of change, especially when it affects their own future.
While the DMM is inherently focused on marketing, it has broad involvement from other parts of the organization like IT, creative, development, and security. This means it aims to bring teams or agencies together to focus on tackling business challenges. It helps the business understand the technical debt it may carry, the implications of that debt, and what the roadmap forward looks like.
Win The Race with Value Makers:
Your business can be prepared for the disruptions set to occur due to the prevalence of digital trends, if you collaborate with the right strategic partner. At Cybage, we improve the transformation capabilities for businesses to strengthen their position as industry leaders. We combine data and digital technologies that increase the relevance of advertising and services of our customers to help them scale.
We engage advanced technologies that apply the latest in automation, artificial intelligence, and machine learning to enable new capabilities. At the core of our operations is ExcelShore®, a data-mining tool that enables insight-driven decisions by leveraging machine learning and predictive analytics to help business leaders enrich their decisions. We bring the same love for data science to our marketing technology offerings.
Cybage's homegrown data based decisioning platform
ExcelShore makes recommendations based approximately 75%
on fact-based data and 25% on qualitative judgement insights
ensuring that business decisions are supported by analysis and are
not overly arbitrary or subjective.
—As quoted in the ISG Provider Lens™ Thought Leadership Paper
titled, Cybage's ExelShore® Next-gen Platform Empowers
Delivery Excellence and Talent Management
Organizations that improve their digital marketing maturity and build the right technical muscle can yield impressive results. You can get started by simply connecting with us at Cybage.