At this decade's start, mortgage rates saw historic lows. But in 2021, housing demand far exceeded the supply, causing market margins to increase exponentially. What do these trends mean for the growing tech options in Real Estate? And how do they affect today's house-hunters?
In March of 2021, the US market saw a 52% decrease in the inventory for houses on sale. This resulted in a sharp rise in competition for homebuyers and realtors, making property purchases quite complex. The high stakes fostered an environment for innovation, expediting technology integration. New-age tech-enabled solutions add value by taking on the industry's pressing challenges and improving how customers interact with them. Let us discuss the most significant trends making themselves known in RealTech!
1. Automated Rental & Purchasing Property Platforms will move property search online.
Effective property management software enables businesses to attract, screen, and manage customers. It also aids in efficiently responding to maintenance requests and accounting for expenses. Providers can adapt to property owners' demands in real-time by leveraging these platforms. They can also adopt the tools and support necessary to close technology gaps and reinforce efficiency.
The property management market is projected to reach $24 billion by the end of 2026.
2. Blockchain-fueled technology will create 'smart contracts.'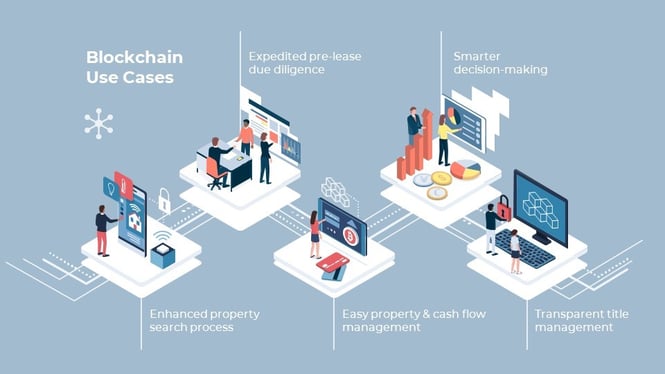 Improving the leasing & sale processes
The global market for digital signatures is expected to grow at 26.3% annually till 2027. Fueled by the necessity, eSigning real estate agreements has become mainstream with Blockchain adoption playing a significant role.
3. Conversational AI assistants will offer 24x7 support and zero error rate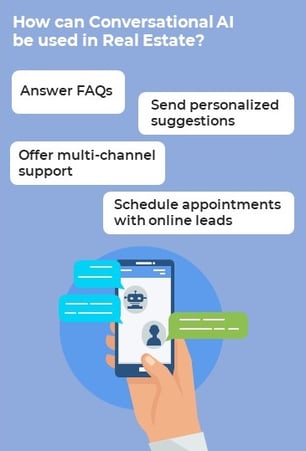 Not every consumer is searching for the same type of property. Chatbots offer them exactly what they are looking for by probing with a series of questions and interactively offering relevant information. Brokers can improve conversations by blending AI-automated answering with in-person interactions to boost closing rates.
4. Use of IoT for property management and innovative amenities will increase.
The focus on touchless solutions has increased in the last couple of years. Building entry points, door handles, stairs, and elevators have become health concerns. Touchless IoT streamlines operations requiring application integration. IoT digitally connects smart devices for proactive maintenance. The smart locks on doors, for example, promote well-being in the home.
5. Business Intelligence and Analytics will allow realtors to meet client needs better.
Businesses can make connections in data to forecast potential customer needs. These connections ultimately highlight properties better suited for customers. Why do people approach a firm? Why do they choose a business over their competitors? Cutting-edge analytics helps locate the consumer's pulse, enabling businesses to direct marketing efforts like customized emails or social messages centered upon user interests.
A Labor of Technology: Explore RealTech at Cybage
Consumption patterns are evolving, spurred by an ever-changing digital landscape. Leveraging technology brings efficiencies and consistently offers stakeholders better insights. Cybage's RealTech capabilities can fundamentally reshape everyone's outlook on buying, selling, and building a property.
Cybage RealTech Expertise