What happens when you want spin faster than your own speed. You look for speed that helps you exceed your own expectations. Being a successful entrepreneur is a similar experience. You may be perplexed at times trying to get your ideas flying and in the right direction, but it is never a cakewalk to develop your products and brand them into the minds of potential customers.
The beginning is always rocky. More than keeping the stone tower steady, the pressing points that takes the focus away is how do they surge operational efficiencies, be cost effective and create new product lines. But most importantly become more innovative from the core. This often leads the newbies to take unconventional approaches and marketing stints that do not always work in the market. Factors such as weak engineering practices, and technology choices, among others also contribute to their failures.
When you dabble between enthusiasm and profitability and falter, you need a mentor, a strategic partner who helps you move from the unconventional methods and focus on speed and culture. Only a good mentor or a strategic partner can ensure fast and successful launch.
Industry agrees that startups grow 3.5x faster and raise 7x more money.
The big question is what are the different strategies that can help curb the failures and build a strategy that helps them to stay afloat in the market. The current situation demands that we embrace the new reality of collaboration in the virtual office environment. Rather than a huddled group of various communications tools, a digital collaboration platform with a purpose will improve the quality and efficacy of project management, software, and product design. Moreover, it will link the silos effortlessly —breaking down walls where necessary.

This model is committed to provide business alignment, accountability, transparency, and innovation to meet client expectations. All of these can be harnessed by putting in place the right structure, streamline processes and clear role definition and communication (and escalation) mechanisms.
Startup as partners
We are well adapted with the start-up culture and over the years have been part of many successful journeys. Our experience and learning have taught us well to build a culture that helps in building successful products and innovate faster.
Cybage Plug n Play product engineering Pod can cater and can be clubbed at any level of start-up journey; be it at ideation, conceptualization phase or where Idea can be validated and scaled based on the market needs post the launch of the product. A Pod is an autonomous entity and offers flexibility because of the resourcing model and the way organization is designed in product innovation.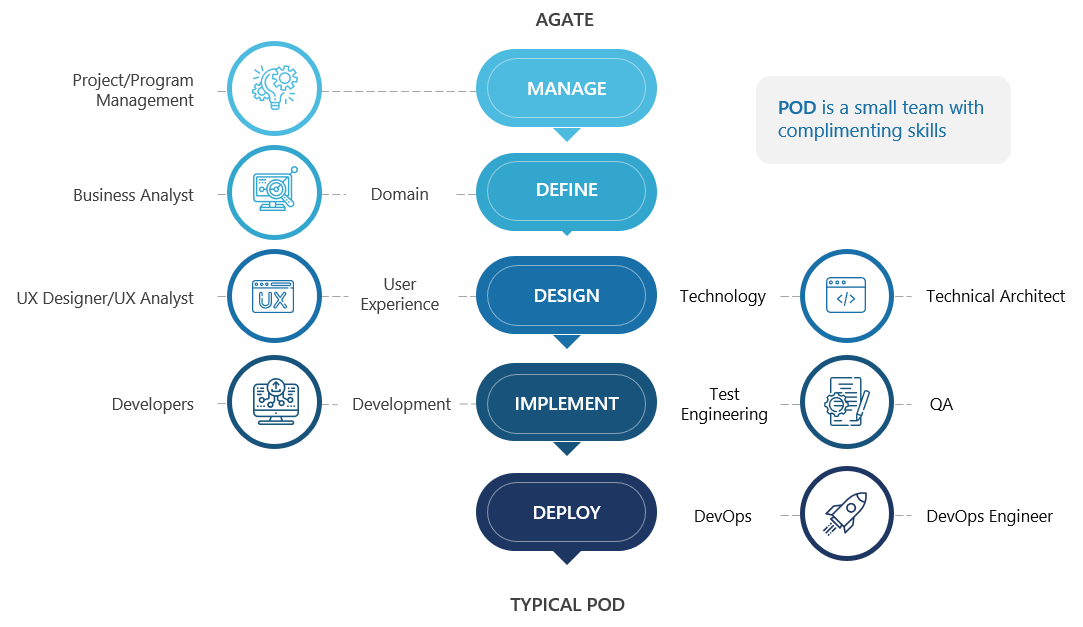 To enable rapid development and prototyping, we follow below approaches which has helped customer and achieved desired outcomes:
Autonomous Pod, closely working across agile value stream
Automation anything, everything
Smaller change sets as core principle – this gives ability to flow through and even it fails, recovery is faster
Automated reports are available for better visibility and transparency
The following offerings have helped start-ups become robust. It has given them the flexibility to focus on market and let Cybage take care of entire eco- system by converting Idea to reality:
Product Ideation: Bringing in the right combination of functional analysts and technical architects for insights on market intelligence, gap analysis and technology advisory. This will help scope out an end-to-end solution backed by a detailed development plan.
Technical Due Diligence: Helps in architecting and designing solution for market needs and ensuring that all the solution development has low/no technology risks and is designed for scale.
MTP/MVP: Quickly creating prototypes that deliver value and hold potential of full-fledged solutions.
Agile PODs: Create a completely customized, rightly curated, and cost-efficient Pod that helps in productizing the idea and results in incremental delivery. This in turn generates value for our customers.
Our success story
From ideation to reality, technology consultancy to implementation to post-production support, Cybage helped an on-demand royalty-free stock photography startup become a leading provider of imagery in the digital marketing and advertising space leading to an increase in business CTRs to 62%, Achieve 2X ROAs and decreased CPCs by 31%. If this has caught your attention, read more.
As a startup, when you are gearing up to take on the marketing giants, we will give you are the right moves for your next. Cybage as a strategic collaborator can help build and manage cohesive applications and platforms on top of robust, secure, and scalable cloud strategy, leveraging DevOps, AI, and Machine Learning.