The majority of enterprises today are scrambling to digitally transform their IT infrastructure with new systems, applications, and even processes. This race comes in line with the rapid proliferation of economic disruption.
A few different schools of thought on the best way to go about that, especially when it comes to more resource-intensive processes like system and application monitoring to uptime, and cloud integration. But they must consider how much responsibility they want to have when managing new technologies and workflows. On the one hand, some businesses will opt to engage in in-house integration and manage day-to-day operations and management. Companies, on the other hand, may decide that they no longer want that burden and outsource specific processes.
IT Operations managed in-house
Most firms' IT operations management has been a tried and tested legacy in the past. Many businesses are still unwilling to leap Remote Infrastructure Management (RIM) instead of depending on a tried-and-true tradition of in-house IT management. For a long time, in-house IT may have been the only option for businesses, and it may continue to be so if you believe "if it isn't broke, don't repair it." But what about the price? Scalability? What about the time you're spending now on in-house IT management?
So, how about RIM? Is it safe to use? Is it a good investment? Do you think you'd still be in command? What are the advantages? Let's have a look.
The RIM market was valued at USD 21.39 billion in 2016 and is predicted to surpass USD 41 billion by 2022. The most important thing is to locate the correct partner to gain huge rewards. Cybage, an experienced partner with a broad range of technical, process, and strategic understanding can add a lot of value.
Cybage's breadth of experience can be used to recommend the correct tools for ticketing or monitoring, set up scalable processes, and governance techniques, or even help IT your workers. It's no surprise that we've earned the trust of over 50 top-tier companies in 17 different countries.
So, how about the security, control, and cost-effectiveness questions? To grasp the concept, we must first discuss ITIL (IT Infrastructure Library)
ITIL is significant because it is a framework that encapsulates the maturity obtained through best practices from a variety of IT operations specialists. Strategy, Design, Transition, Operation, and Continual Improvement are the five stages of the service lifecycle. While this is common knowledge, Cybage excels at using it to co-create and improve the value of businesses and services. A solid, scalable IT infrastructure is just as important to business as IT is.

Now let's revisit the questions that often arise:
Many global organizations such as Cybage have already undergone security certifications of Global standards like ISO, which means that your business is in secure hands
In a RIM scenario, too, you retain all the data and fully control what happens to it. You only provide access to what is needed; this is made possible by technology, to name a few, VDI, VPN, etc.
With RIM, you get access to a broad range of skilled experts, which would have been a huge cost in an in-house setup. Many costs are distributed/shared with several customers, so you don't have to worry about the training/certification of resources.
While RIM lets you benefit substantially on Cost, it also eliminates hiring and retaining of talent. This gives you significant savings in time so you can focus more on your primary business and day-to-day innovation rather than operations.
When working with a small In-house IT team, they are constantly kept busy with the inflow of high-priority tasks. This leaves little room for them to find real solutions and plan an IT strategy that aligns with business goals. With a RIM provider, you will have help in finding the right people, training, and up skilling them.
While RIM lets you benefit from personalized solutions that cater to your specific business needs, it also gives you seamless business continuity and improved availability for business-critical needs. Experienced partners such as Cybage provides continuous service availability options (24x7x365) or flexible options as per your need. You can choose what best suits your need or go for a tailor-made solution too.
Measuring service quality and strategic alignment of the timeline of deliverables is crucial for IT in any business. Therefore, the needs to have a performance measurement system based on Service Level Agreements (SLA).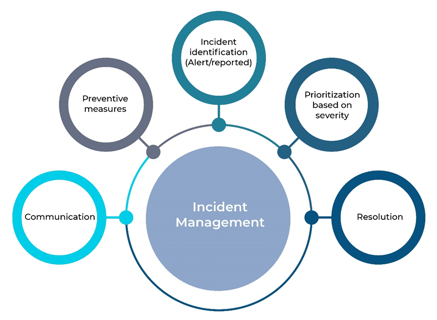 So then, where do you start?
We get it, securing your operations is almost like a race against time. However, this race does not have a "starting" line. One of the significant benefits of RIM is that you can start from whatever state of IT operations management that you are in currently and start building in stages.
Today's sophisticated IT system is designed to deal with various challenging conditions, including threats, network failures, security breaches, and massive volumes of disorganized data, all of which demand IT department monitoring of the infrastructure 24 hours a day, seven days a week.
Given the global business environment and tremendous expansion, every firm globally will require an IT specialist at some time in the future to satisfy its rising needs. Cybage, as an experienced and mature firm, can serve as your virtual CIO and technology partner, assisting you in reaching new heights while minimizing risks.
Contact us today to find out how!